Sermon Resources for Lent and Holy Week Year B
Year B Texts from the Revised Common Lectionary
Note: In addition to the resources below, please check our homepage for weekly sermon commentary articles on Year B Gospel, Epistle, Old Testament and Psalms texts for the whole of Lent through Easter.
First Sunday in Lent: February 21, 2021
Text: Mark 1:9-15
Mark begins Jesus' public ministry with a bang. Jesus appears from out of nowhere, is baptized, is tempted in the desert, and then begins preaching—and all of this takes place in the span of only about 6 or 7 verses! For Lent, this passage seems to be a good reminder that Jesus came not only to announce the good news that the kingdom was near but also to do battle with the forces of chaos that have been seeking to unravel God's cosmos ever since sin came onto the scene. Between verses 11 and 12 there is a kind of holy inevitability to Jesus' being violently impelled into the wilderness. Yes, Jesus is God's beloved Son (verse 11) but precisely BECAUSE this was so, he had to go into the place of death and face Satan, the wild animals, and everything else about this world that makes it a fallen place. Indeed, Jesus' ability to say "The kingdom of God is near" seems premised on his engagement with the chaos of the wilderness. This is a good Lenten reminder that in imitation of our Lord, we also should feel the Spirit leading us into places of great brokenness, chaos, and hurt. Where else is Jesus' healing touch needed more?
Second Sunday in Lent: February 28, 2021
Text: Mark 8:31-38
Jesus is the Christ, as Peter rightly had just confessed him to be at the center point of Mark's gospel in chapter 8:29. Jesus has been keeping that identity a secret right from the very start of his ministry when in Capernaum (Mark 1) he prevented the demons from identifying him lest people too quickly seized on Jesus but with mistaken conceptions as to who the Messiah is. The truth is that being the Messiah means suffering and death and sacrifice, which is why to Jesus' mind this was the logical thing to start talking about immediately following Peter's confession. The disciples, however, didn't see the connection. Do we? The disciples resisted the connection? Do we?
Third Sunday in Lent: March 7, 2021
Text: John 2:13-22
John famously places Jesus' cleansing of the Temple at the start of his ministry rather than after the Triumphal Entry where the Synoptic gospels locate it. In John's case this becomes an early occasion in his gospel to make the connection between the physical Temple and the "Temple" of Jesus' body. In this passage we also get the marvelous play on words after the religious leaders demand a miraculous sign by which to prove Jesus' authority. But what they take to be a "miracle" of an instantaneous rebuilding of a grand physical structure is really the grand miracle of Jesus' sacrifice. They want a sign of power. Jesus will finally give a sign of weakness through which the grandest power in the universe will be unleashed. The paradox of the Lenten Season is on great display in this passage.
Fourth Sunday in Lent: March 14, 2021
Text: John 3:14-21
Scholars debate whether this lection—including the famous John 3:16 passage, therefore—is part of the Nicodemus story or a separate section shorn away from the specifics of that narrative. Whether or not this was intended by John himself to be part of the Nicodemus encounter, in practice people have indeed isolated and rarified these verses to the point that they stand alone without any context whatsoever. But we do well to connect them to the larger narrative of John 3. If we do so in the Lenten Season, we may see these lyric words in a new light—indeed, the light that shines in the very darkness under whose cover Nicodemus came to Jesus and under which too many of us still live as well.
Fifth Sunday in Lent: March 21, 2021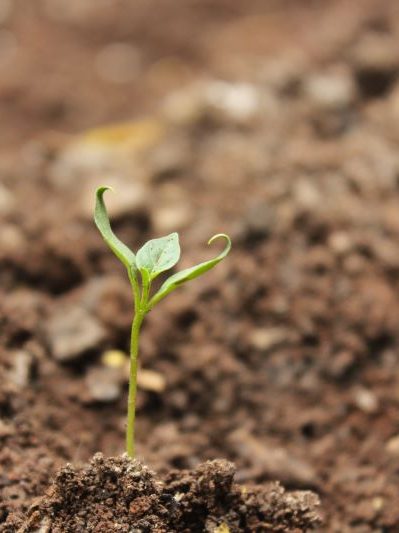 Text: John 12:20-33
This lection may end a little too early. We need verse 36 to help unify the passage. We begin, after all, with some Greeks saying they want to SEE Jesus and we end with Jesus HIDING himself. In between we get the famous image of a seed falling into the earth, which is yet another form of "hiding" (literally of going underground!) through which the paradox of the gospel comes through once again. In verse 32 Jesus says he will be lifted up and will draw all people to himself but in reality the manner in which he will be lifted up will be so hideous—such a counter-intuitive action—that people will not feel drawn to Jesus. The seed will be in the process of diving under the soil to die. Jesus will not, on the cross, appear to be going anywhere worth following. Blessed are those who follow anyway. The result is eternal life.
Sixth Sunday in Lent / Palm Sunday: March 28, 2021
Text: Mark 11:1-11
We make a big deal out of Palm/Passion Sunday and Jesus' allegedly "triumphal" entry into the city. What we sometimes miss is that in Mark's telling of the story, Jesus didn't stay in the city for long. According to verse 11, he rather quickly exited the same city he had just entered. He would return the next day but a quick look at Mark 11:12ff tells us that when he comes back the next day, things are different! The misunderstandings behind Jesus' first entry becomes plain when we take a look at what happened the next day.
Good Friday: April 2, 2021
Text: John 18 and 19
John's telling of the larger crucifixion story is filled with drama and a wealth of details on which to preach. One fruitful theme is the overarching sense of completion and fulfillment. John doesn't allow us to see these as some unhappy series of unfortunate events (a la Lemony Snicket!). From the very beginning of John's gospel we have been given the portrait of a very deliberate Savior who steadfastly was heading toward death. John also peppers his account with Old Testament passages, promises, and prophecies, imbuing his entire story with a sense of holy joy despite the gloomy circumstances—something long awaited and anticipated and planned is coming to fulfillment. Good Friday is not a time to cash out the sorrow and the suffering of it all but it is a time to see that none of this was pointless or gratuitous. We are marching inexorably toward something grand.
Easter Sunday: April 4, 2021
Text: Mark 16:1-8
Who can resist Mark's deliciously weird ending!? The gospel that began with a bang when Jesus appeared out of the middle of nowhere in Mark 1 ends with a strange and fear-fueled silence. Both the beginning and end of Mark are equally abrupt. But there are tantalizing details to mine here for a solid Easter sermon. Questions linger. Can the gospel end in a silence? Of course not! But does it sometimes stay silent on also our fearful, trembling lips even yet today? And note also Tom Long's good insight on the angel's words about going to Galilee to see Jesus. After all, in Mark's gospel, where is Galilee? Is it not in Mark 1:14 where it all began? Perhaps Mark is subtly telling us that, after reading an entire gospel where the identity of Jesus was kept hush-hush, we are now ready to go back to the beginning and—in the light of what we discovered at the cross—we are now ready to read the whole thing again but this time, THIS TIME, we will understand it anew. We go back to Galilee, but with renewed eyes.
From the Calvin Institute of Christian Worship:
A wealth of service planning and liturgical resources are available at our ministry partner, The Calvin Institute of Christian Worship.
Resources from Reformed Worship Magazine:
See all of the back issues of Reformed Worship (organized by liturgical season). You will find many years' worth of articles, liturgical resources, sermon ideas, and more all tying in with the Season of Lent and Holy Week through Easter. Articles from many past issues of Reformed Worship are free. When someone accesses three or more past articles, they ask for a registration. Only an email address and a password are required to be a registered user. The registration is also free. Once registered, users have unlimited access to unlocked articles.
Other Scripture Ideas for Lent/Holy Week/Easter